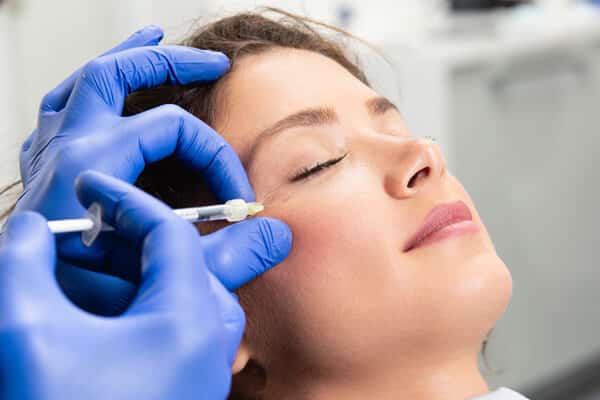 A Breakthrough in HA Filler Technology
Now available in the United States, Dr. Ellen Gendler offers RHA at her office in Manhattan. Often cited in New York Magazine's Best Doctors list, Dr. Gendler is well known for her work with Botox and soft-tissue fillers, including Restylane, Juvéderm, Voluma, and Radiesse.
Having already made waves across Europe, RHA® – the latest advancement in HA (hyaluronic acid) science – is the first-ever HA filler designed for 'dynamic wrinkles and folds' in the face, and is formulated to more closely resemble the natural HA found in the skin. The result: A natural filler designed to adapt to the motion of the face for a flawless and elegant look.
What is RHA?
RHA stands for resilient hyaluronic acid. Developed in Switzerland by TEOXANE, it is manufactured through a gentle process called 'Preserved Network Technology' and made with few chemical modifications – helping to preserve the natural structure of the hyaluronic acid, allowing it to closely mimic the natural substance found in our skin.
As we age, we lose some of our natural HA, causing the skin to lose structure and volume, which creates wrinkles and folds. RHA brings vitality and tone back to the skin, with natural results.
How does RHA work?
RHA is designed to move with the face, targeting dynamic wrinkles and folds – the areas of the face that move repetitively. Its unique combination of stretch and dynamic strength makes it both resilient and flexible to cope with the demands of our moving faces.
The RHA collection includes three formulations, used independently or in conjunction with each other to target specific layers of the dermis to reduce wrinkles and folds ranging from moderate to severe.
RHA 2 is injected into the mid-to-deep dermis for moderate wrinkles and folds.
RHA 3 is injected into the mid-to-deep dermis for moderate-to-severe wrinkles and folds.
RHA 4 is injected into the deep dermis to superficial subcutaneous tissue, to treat moderate-to-severe wrinkles and folds.
What is RHA used for?
RHA is used in the areas where dynamic lines and wrinkles are created – such as around the eyes and mouth where the face moves in a repetitive manner. Examples of areas for treatment include:
Around the eyes and between the eyebrows
Fine lines or 'smile lines' around the mouth
Nasolabial folds
The jawline
Prior to your treatment, Dr. Gendler will conduct a thorough assessment of your skin, and determine which of the RHA collection is to be used, and where.
Are there any special precautions to take with RHA?
At your consultation and as part of your skin assessment and personalized treatment plan, Dr. Gendler will determine which treatments are appropriate for you, considering your age, lifestyle, skin condition and medical history. As a result of certain medical conditions, some patients may not be able to undertake treatments with RHA® or other fillers. Always consult with your dermatologist prior to any injectable filler treatment – you may be asked to refrain from taking certain medications for a period of time prior to treatment in order to minimize the risk of bruising.
How is the treatment done?
To ease any discomfort, a topical anesthetic may be applied 30 minutes prior to your treatment. Fine needles are used for a series of precise injections, and ice may also be applied during treatment to reduce any swelling. Depending on the size and location of the treatment area, the injections take 15 to 30 minutes to perform.
What can I expect from an RHA treatment?
After your appointment, you will see results straight away. You may experience some puffiness or fullness, or slight bruising, which disappears quickly – usually within a day. You will be able to wear makeup and resume taking any medication.
RHA has a proven clinical effectiveness and duration of up to 15 months, though individual results may vary. You may require supplemental treatments for ongoing correction of some wrinkles and folds – your personalized treatment plan will outline which treatments to take, and how frequently.
How safe is RHA?
With any cosmetic procedure, safety is the top priority. All RHA treatments are done in our NYC office where thorough safety and hygiene practices are undertaken to ensure a great patient experience. Patients have little to no downtime, with most side effects being mild to moderate in nature.
No delayed-onset treatment-related adverse events were observed in the US clinical studies for RHA, and is the first and only FDA-approved HA Filler for Dynamic Facial Wrinkles and Folds.
Contact Gendler Dermatology
For more information about RHA treatment in New York City, contact Gendler Dermatology today at (212) 288-8222 to schedule a consultation or click here.
Book An Appointment
Make your skin a priority with our leading Upper East Side Medical and Cosmetic Board-Certified Dermatologists.
Book Now