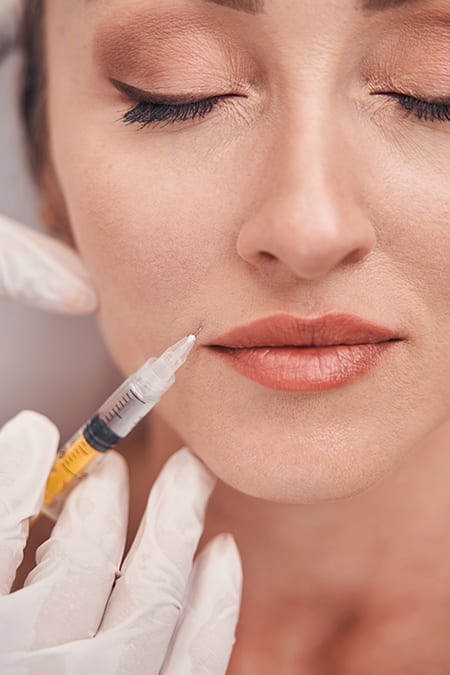 What is Restylane?
Restylane is a safe and natural cosmetic dermal filler that restores volume and fullness to the skin to correct moderate to severe facial wrinkles and folds, such as nasolabial folds.
What is Restylane made of?
Restylane is the first and cosmetic dermal filler made of non-animal-based hyaluronic acid (HA). Hyaluronic acid is a natural substance in the skin that doesn't vary from species to species and gives the skin volume and plumpness. The HA in Restylane is a crystal-clear gel called NASHA, or Non-Animal Stabilized Hyaluronic Acid, which is biodegradable and completely compatible with human HA. A small amount of lidocaine is added to each syringe to minimize any discomfort with the injection.
What should patients do before treatment?
There is no need for allergy testing with Restylane, but we generally recommend a few precautions to minimize the risk of bruising, which can occur with any injection. Medications to be stopped one week before Restylane injections are aspirin, Advil or Motrin, Aleve, Vitamin E supplements, Omega-3 Acids, and Fish Oils. Also, if you have previously suffered from cold sores in any of the areas to be injected, we recommend that you take an anti-viral pill for prophylaxis. You should speak to the physician if you have questions about this.
Is Restylane safe?
Yes, Restylane has been used safely by dermatologists and plastic surgeons since 1996 worldwide. Because Restylane is non-animal-based and fully biocompatible, allergy testing is not required, and there is virtually no risk of animal-based disease transmission. The most commonly reported side effects are temporary redness and swelling at the injection site, which usually resolves within two or three days, or a small bruise, as with any injection. If you are allergic to lidocaine, you should alert the physician so that Restylane without lidocaine can be used. Because HA binds water closely, sometimes there can be some transient bumps or puffiness which appear several hours after treatments and are felt, but not seen, by the patient. These disappear within a few hours after treatment or the next morning.
Can Restylane be used anywhere on the face?
Restylane has been used in more than one million treatments in over 60 countries to correct a variety of wrinkles and to enhance the appearance of lips.
How long will Restylane last?
While results vary from patient to patient, the average treatment lasts six months or longer. Sometimes "touch-up" sessions are required to maintain the excellent results.
For more information about Restylane treatments in New York City, contact Gendler Dermatology today at (212) 288-8222 to schedule a consultation or click here.
Book An Appointment
Make your skin a priority with our leading Upper East Side Medical and Cosmetic Board-Certified Dermatologists.
Book Now