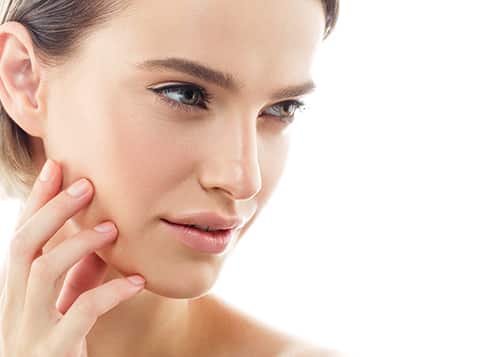 Most of our skin concerns can be traced back to any or all of four main culprits: age, genetics, sun exposure, and medical conditions. While we can't stop all of them, we can manage and treat the effects they have on our skin – wrinkles, redness, pigmentation, uneven tone or texture, and scarring. Aging in particular has a number of effects on the skin that can cause us to feel self-conscious, shy away from photos, or create a disconnect between how we look and how we feel inside.
Our board-certified dermatologists offer a range of skin rejuvenation treatments.
What is skin rejuvenation?
The highly customizable nature of skin rejuvenation treatments, or a combination of treatments, allow them to address a range of common skin concerns, including:
Redness or rosacea
Pigmentation and sunspots
Uneven skin tone or texture
Wrinkles and fine lines
Acne and acne scarring
Treatments for skin rejuvenation
Depending on your goals, skin, and medical history, a number of skin rejuvenation treatments are offered alongside other cosmetic dermatology treatments. At your consultation, our dermatologists will perform a detailed assessment of your skin, and discuss your concerns, goals, and expectations with you. Based on this, they will create a personalized treatment plan, and recommend which treatment will best help you achieve your goals. These treatments may include:
The ideal candidate for skin rejuvenation
Practically anyone can receive treatments to help refresh and revitalize their skin. If you have concerns about the appearance of your skin, you may benefit from skin rejuvenation treatments.
However, some medications, such as isotretinoin, can interfere with treatments, and as a result, patients will be advised of the procedures they can and cannot have while taking these medications.
Additionally, depending on your medical history, complexion, or other factors (such as pregnancy or breastfeeding), not all of the above treatments will be effective or recommended.
Personalized care
Every person's skin is unique to them, as are their skin improvement goals. Our team of board-certified dermatologists takes a personalized and hands-on approach with all of their patients, to ensure that they not only receive the best experience possible but are able to achieve or work towards their goals in achieving their dream look. As part of your consultation, a personalized treatment plan will be developed for you, which includes your recommended treatments, as well as recommendations on products to use at home that will elevate your skincare routine and enhance the effectiveness of your treatments.
What to expect from skin rejuvenation treatments
Your downtime and recovery depend on which treatments you have, and how many of them. Many will have little to no downtime, though some may require you to rest or refrain from certain medications or activities. After each treatment, you will receive thorough instructions on how to best take care of yourself and your skin, via your personalized treatment plan.
We will help you achieve your skin and cosmetic goals with safe, effective, top-of-the-line treatments via your personalized treatment plan.
For more information about skin rejuvenation treatments in New York City, contact our offices today at (212) 288-8222 to schedule a consultation.
FAQ
The treatments you need will depend on your specific skin concerns, as well as your medical history, complexion, and goals. Dr. Gendler draws on her experience and knowledge to recommend the most effective treatments for her patients.
Dr. Gendler recommends products to be used at home as part of her personalized treatment plans, as well as which kind of routine you should be following for your specific skin type. No matter the case, it is important to regularly apply moisturizer and SPF sunblock to help keep skin hydrated and protected.
Costs depend on which treatments are applied and can vary by treatment length and intensiveness. Please get in touch with any payment or pricing questions.
Due to the non-invasive nature of our skin rejuvenation treatments, many are virtually painless. If discomfort is expected, Dr. Gendler takes preventative measures, such as the application of numbing cream.