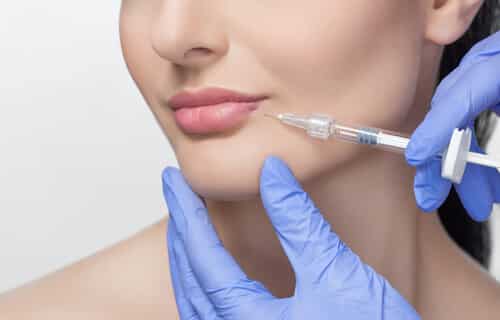 Get the perfect pout
Whether the effects of aging are showing with fine lines, wrinkles, loss of definition or thinning in the lips, or you are simply not happy about the cosmetic appearance of your lips, lip augmentation can bring fullness and vitality to your lips and the area around your mouth for a youthful, refreshed look.
It's important to have a doctor with experience in treatments such as lip shaping, and who has the knowledge to recommend the correct treatment to achieve dramatic yet natural results for patients. Regularly cited on New York Magazine's Best Doctors list, Dr. Ellen Gendler is a Board-Certified dermatologist particularly well known for her work with Botox and soft-tissue fillers.
What can lip shaping help with?
As we age, we naturally lose fullness and definition in our lips, particularly in the upper lip. Fine lines appear around the mouth, and we may see the corners of our mouth start to turn downward. Using injectable fillers – not just on the lips themselves, but around the mouth as a whole – lip augmentation can address many concerns:
In the body of the lips themselves, to create a fuller look.
In the corners of the mouth (also called the oral commissures) to reverse the effects of gravity and remove a 'frowning' appearance.
For definition at the vermilion border – where the skin meets the lips.
Brings a more defined look to the cupid's bow (the v-shaped area in the center of the upper lip), and the philtrum, the two lines that connect the upper lip to the nose. Combined, these give the upper lip more shape and curve.
And in the fine lines around the mouth, reducing signs of aging.
At her Manhattan office, Dr. Gendler will conduct a thorough assessment with you to understand your goals and expectations and generate a personalized treatment plan that will help achieve these goals.
How does lip augmentation work?
To define and fill areas in the lips and around the mouth, fillers are precisely injected into particular areas to smooth them out, create definition, or produce a fuller appearance. Depending on the area being treated, and your personal goals and medical history, a variety of fillers may be used to achieve your ideal look.
To ensure the best result and patient experience, Dr. Gendler offers a variety of safe, top-of-the-line injectable fillers, including:
Belotero® – an FDA-approved injectable composed of hyaluronic acid, which is used to treat fine lines above and below the mouth, and at the corners of the mouth.
Restylane Lyft® – a safe and natural dermal filler that restores volume and fullness to enhance the lips.
Restylane Silk – is an FDA-approved filler used to smooth wrinkles around the mouth and enhance the shape of the lips.
Juvéderm XC® – a smooth gel filler that contains lidocaine, which improves comfort during treatment.
The all-new RHA® filler collection – RHA stands for resilient hyaluronic acid, the first-ever filler designed for dynamic lines and wrinkles.
Dr. Gendler also offers her own 'layer cake technique' – which involves using a cannula to deliver a blend of both fillers and toxins such as Botox, cresting the most natural-looking lip and surrounding area.
Personalized treatment
Using her expertise and experience with fillers, Dr. Gendler will identify areas of your mouth and lips that can be enhanced with treatment, and create a personalized treatment plan for you, including any activities or medication you may need to refrain from before or after your treatment, products to be taken to supplement or enhance your treatment, and the aftercare to be provided.
With Dr. Gendler's experience in both the use of fillers and reactions to cosmetics, you can rest assured knowing that the utmost care is taken to ensure the best experience and result for you.
What to expect with lip augmentation
Because of the possible bruising risk, we ask you to refrain from certain types of medication prior to your appointment, which will be outlined as part of your personalized treatment plan.
With the use of injectable fillers, some discomfort may occur during your treatment; a topical anesthetic can be used if desired. While some fillers can show immediate results, it can take up to a week for lips to settle into a more natural shape.
Some people may experience slight bruising or swelling after their treatment, which should subside over a few days.
Our team of board-certified dermatologists offers the best in patient care and is committed to providing safe, effective treatments with beautiful, natural results. For more information about lip shaping or lip filler treatments in Manhattan, contact our offices today at (212) 288-8222 to schedule a consultation.
FAQ
Lip shaping or lip filler treatments are a possibility for practically anyone who wishes to improve the appearance of their lips or the area around their mouth. Prior to your treatment, Dr. Gendler will assess which treatment and filler will be right for you, and where it would be most effective.
This depends on the areas treated and the types of fillers used. Some results can last for approximately 4-6 months, up to a year. Your personalized treatment plan will include the number and frequency of treatments best for you.
Treatments take approximately 30 minutes, depending on the size and area.