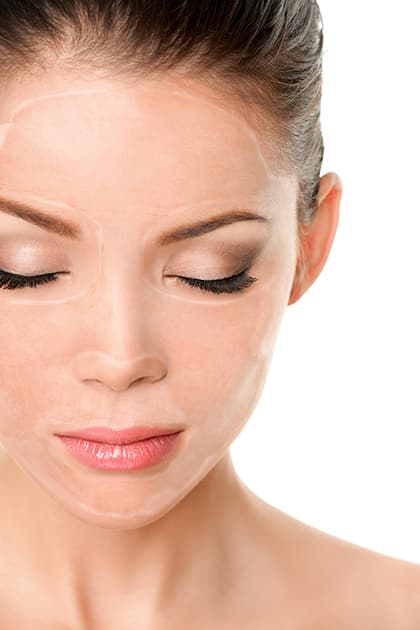 A chemical peel is a method of skin resurfacing where your dermatologist will topically apply a chemical to the skin, causing the old layer to exfoliate and peel off, revealing fresh, regenerated skin. In just minutes, acids will dissolve dead skin cells, triggering new cellular growth at the surface and increasing collagen production. The result: a fresh face – a skin reset.
In addition, the sloughing off of old skin cells makes it so that your skin is more receptive to skincare products since no dead cells impede the penetration of the product into the skin.
Chemical peels, or chemical skin resurfacing, have been around for many decades and are a mainstay in our toolbox for helping you achieve beautiful, healthy skin.
The procedure itself is simple: a liquid chemical is carefully applied to the skin, which leads to varying degrees of peeling over the course of several days to a week. At Gendler Dermatology, we are experts in the art of skin peeling, using a host of peels, depending on the type of skin, degree of sun damage, and desired result.
Some peels are very light "maintenance" peels, and some can be deep "resurfacing" peels, with any degree in between. There are even gentle laser treatments that we perform in place of chemical peeling, as well as deeper lasers for more extensive resurfacing. All of these options will be thoroughly reviewed in your consultation, and a topical regimen designed to enhance the result and maintain the effect will be suggested.
Of course, this will also include a full discussion on sunscreens!
Who should get a chemical peel?
Peels are great for people with acne and/or acne scarring, textured skin that needs smoothing, discoloration, and/or hyper-pigmentation. A chemical peel is a more cost-effective alternative to skin resurfacing if the laser is not in your budget, as you'll see results from a peel after just one session, as opposed to a laser that takes up to 3 sessions to result.
What can I expect from a chemical peel?
What you experience will depend on which of the three chemical peels you choose to receive:
Superficial peel (often referred to as a "lunchtime peel," as many choose to have this done during their lunch hour on workdays): These milder peels use less abrasive chemicals, such as lactic acid or mandelic acid, and you won't experience much (or any) visual peeling. You may feel a slight tingling during the process.
Medium peel: takes a bit longer than a superficial peel, and uses trichloroacetic or glycolic acid to reach the middle and outer layer of skills. The procedure takes a bit longer than a lunchtime peel (typically 60 minutes), and often the solution will be blue (commonly referred to as a "blue peel").  You will feel a gentle stinging for around 20 minutes, and the doctor will provide a cool compress to ease the discomfort. Peeling usually does not being until approximately 48 hours after treatment, and can last from 3-5 days.
Deep peel: uses even stronger acids such as phenol or trichloroacetic acid, and the patient is sedated. The procedure can take 60-90 minutes, as the skin is worked on in 15-minute increments to limit the skin's exposure to acid. Peeling will start approximately 48 hours after treatment and last from 3-5 days.
Regardless of the type of peel you are getting, you will need to avoid sun exposure for at least 5 days (7-10 days is recommended after medium and deep peels)
How safe is a chemical peel?
When performed by a licensed dermatologist, a chemical peel treatment is clinically safe. However, if you have dark skin, be sure that the esthetician or dermatologist is using acids that are right for your color in order to reduce the risk of hyperpigmentation.
Stay away from the sun and from acid products 5-7 days prior to your treatment, as this will cause your skin to be more sensitive and more prone to feeling burning or discomfort during the procedure. As long as you are properly prepared for your peel, it is unlikely you'll experience major discomfort.
What are the side effects of a chemical peel?
Sun sensitivity and visual peeling are the effects that everyone is prone to experience. Hyperpigmentation and/or scarring are possible if your doctor has not used the right acids for your skin.
In addition, people carrying the herpes simplex virus may experience an outbreak following treatment, so doctors recommend increasing antiviral medication prior to and during the peel.
How long do the results from a chemical peel last?
Results and peel frequency depend entirely on the type of peel: deep peels should only be performed once every 6-8 weeks, while lunchtime peels, when gentle enough, can be performed up to 2 times per month.
Many patients like to get a medium or deep peel whenever the season changes, to help their skin adjust to the changing environment.
What is a chemical peel not good for?
A chemical peel cannot dramatically reduce wrinkles or sagging skin – these conditions must be treated with laser procedures or cosmetic surgery.
Our team of board-certified dermatologists is here to help. Contact Gendler Dermatology today at (212) 288-8222 to schedule a consultation or click here.