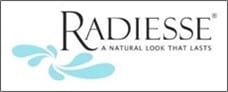 What is Radiesse?
Radiesse is an injectable filler that works by immediately restoring facial volume to smooth out some of the signs of aging. Once injected, it works with your own body to stimulate the production of your natural collagen for results which are long-lasting in many patients.
How is Radiesse made?
Radiesse is made of tiny calcium-based microspheres which are suspended in a natural, water-based gel. These microspheres are similar to minerals that are found naturally in your body, so allergy testing is not required. Over time, your body absorbs these microspheres as well as the gel, leaving behind only your natural collagen.
How does Radiesse work?
Once injected, Radiesse fills or replenishes volume lost over time to give you a more refreshed looking you. It then goes to work stimulating your body to produce its collagen, which develops over a few months. The most common treatment site is the nasolabial folds and cheeks. Radiesse has been used to add volume to the back of the hands as well.
How should patients prepare for treatment with Radiesse?
We advise patients to avoid medications that can prolong bleeding, such as aspirin, non-steroidal anti-inflammatories (NSAIDs) such as Advil, Motrin, and Aleve, as well as Vitamin E supplements, Omega-3 Acids, and Fish Oil for a week before treatment.
Do the treatments hurt?
Radiesse is FDA-approved to mix with lidocaine (an anesthetic) to minimize any discomfort. Generally, a topical anesthetic is applied for about 30 minutes before the injection, making it an almost painless procedure.
What are the results? Are there any after-effects?
Results are seen instantaneously after injection with Radiesse, though some of the volumizing effects can take up to two weeks to develop. These results often last a year or more in many patients. As with any injection, a small bruise, some temporary redness, or little bumps can appear, but these disappear very quickly over a few days.
Is Radiesse safe?
Radiesse is an FDA-approved filler and has undergone rigorous testing in clinical studies to prove this. The minor side effects mentioned above can occur. Rare side effects include persistent bumps or firmness, or infection. Radiesse should never be injected into the lip. It is also essential to know that unlike hyaluronic acid fillers, which can be readily dissolved if desired, Radiesse cannot be simply removed or dissolved and must run its natural course to be absorbed over time.
If any side effects persist for more than a week, you should notify your physician.