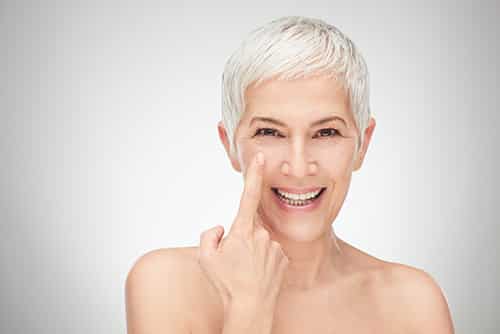 When it comes to lifting and defining your face with long-term results, Radiesse can help. Radiesse is an FDA-approved, next-generation dermal filler used for the correction of unwanted facial lines and wrinkles.
If you are looking for your Radiesse dermal filler treatment in New York City, look no further. As one of New York's top dermatologists, Dr. Ellen Gendler is a leading expert in using Radiesse and other injectable fillers.
Dr. Gendler is committed to providing safe and effective treatments with natural-looking results and has excellent, consistent feedback from her patients for her honest and academic approach in her Manhattan practice. Dr. Gendler will consult you before your Radiesse treatment to give you a natural look that lasts, making you look fresh, rested, and healthier.
Radiesse Treatment
When injected, the gel immediately works by adding back volume to the area you want to smooth out. Radiesse is made of tiny microspheres of a molecule called calcium hydroxyapatite (CaHA) suspended in a water-based gel. CaHA is made up of ions of phosphate and calcium, which occur naturally in the human body.
As time passes, the CaHA stimulates collagen's natural production, allowing your skin to produce more of its own filler. Eventually, the CaHA is absorbed by the body, leaving your naturally produced collagen in its place. Thanks to the science behind Radiesse, treatment results can last for well over a year, even up to two years for some people, making it a top choice for dermal filling. Dr. Gendler can develop a personalized plan for you to ensure long-lasting effects that will make you feel and look your best.
Radiesse has been widely studied to certify its safety, effectiveness, and durability. The results of the clinical studies showed that:
97% of the patients were "extremely satisfied" by the treatment at 4, 6, and 12 months after the treatment
At 30 months post-treatment, more than 40% of the patients still reported improvement in their facial skin definition
It has also been demonstrated by clinical studies that Radiesse is effective in making your hands softer, less wrinkled, and more elastic, making it the first FDA-approved dermal filler for both the face and the hands.
What to Expect During Your Treatment with Radiesse
The ingredients in Radiesse are non-toxic, non-allergenic, and compatible with your body's natural tissues. This means that you won't need to undergo an allergy test before your appointment.
At your appointment in our Manhattan office, Radiesse will be injected into the cheeks and the nasolabial folds around the mouth. Some people who choose this procedure want to fill in wrinkled areas in their hands.
The treatment usually takes 15-30 minutes, depending on how many injections you need. There is minimal to no discomfort with the injections, as topical numbing cream is applied beforehand. Radiesse can also be mixed with Lidocaine to reduce any pain during the procedure.
There is virtually no downtime after Radiesse injections, and you can go home immediately after your appointment. Dr. Gendler will inform you regarding the aftercare. We recommend no harsh scrubs for 24-48 hours after the injections, but otherwise you can resume your regular skin care regimen.
Is Radiesse the Right Treatment for You?
If you are looking to smooth out folds around your mouth or add volume to your cheeks or hands, you are probably an ideal candidate for a Radiesse treatment at Gendler Dermatology in New York. Radiesse also works if you want to plump the skin on your hands. Generally, patients undergoing Radiesse treatment are adults between the ages of 35 and 60.
You should not get Radiesse if you have an allergy to any component of the product, if you have a history of severe allergies, if you have a bleeding disorder, or if you are pregnant or breastfeeding.
While Radiesse is considered non-toxic and hypoallergenic, there are still minimal risks associated with the treatment. Some side effects include swelling, pain, itching, redness, bruising, and infection at the injection site.
Feel your best and have a dermal filler treatment with long-term results, put yourself in the expert hands of Dr. Gendler, and her team, who will develop a personalized plan for you. For more information about Radiesse treatments in New York City, contact Gendler Dermatology today at (212) 288-8222 to schedule a consultation or click here.
Book An Appointment
Make your skin a priority with our leading Upper East Side Medical and Cosmetic Board-Certified Dermatologists.
Book Now