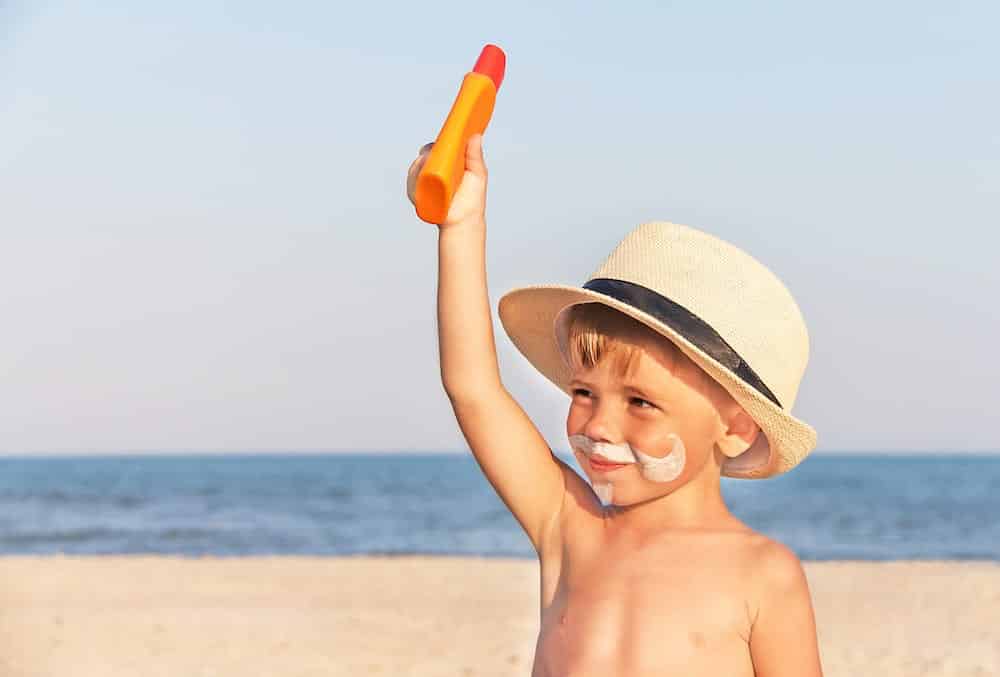 Keeping Your Babies and Kids Protected From The Sun 
Sunscreens come in two flavors: physical and chemical blockers. Physical sunblocks (also known as mineral sunblocks) contain zinc oxide and/or titanium dioxide. These ingredients sit on the skin and reflect the sun's rays. Zinc oxide is superior to titanium dioxide, so be sure to look for one higher in zinc oxide content. In contrast, chemical sunscreens are absorbed by the skin and absorb UV rays.
For babies, under six months of age, it is best to avoid chemical sunscreen as babies have higher systemic absorption compared to older kids and adults. Because babies do not have the fully-developed heat regulatory abilities of older kids, it's ideal to keep them indoors or entirely shaded, as prolonged exposure to heat is not well tolerated. However, a small amount of mineral sunblock is safe if there is no way to avoid the sun (after all, zinc oxide is the same ingredient in diaper paste!). Keeping babies in sun-protective clothing is most important at this age.
After six months of age, physical sunblocks are ideal as they work immediately when applied to the skin and are not systemically absorbed. As your babies grow, certain chemical sunscreens are good options as they may offer excellent broad-spectrum coverage to both UVA and UVB rays. However, a word of caution: most chemical sunscreens sold in the USA do NOT have good UVA coverage. The best chemical sunscreens contain Mexoryl or Tinosorb and can be found readily outside the US. Please discuss this with one of our doctors or nurses if you would like more information on these products to keep your babies sun-safe. We have a selection of chemical-free sunscreens for sale in our office.
Some of our favorite drugstore sunblocks for kiddos:
Neutrogena Pure & Free Baby- 21% zinc oxide
Aveeno Baby Continuous Protection Sensitive Skin- 21% zinc oxide
Thinkbaby Safe Sunscreen- 20% zinc oxide
Blue Lizard Baby- 10% zinc oxide, 5% titanium dioxide
Some last tips
Water resistant doesn't mean waterproof- always reapply, especially after rainexposure and sweating
Avoid being out in the sun from 10-2 when the sun's rays are strongest
If choosing a chemical sunscreen, make sure to apply to skin 15-20 minutes before going outside to allow full absorption
Most important is that babies are kept covered with hats, sunglasses and sun protective clothing!