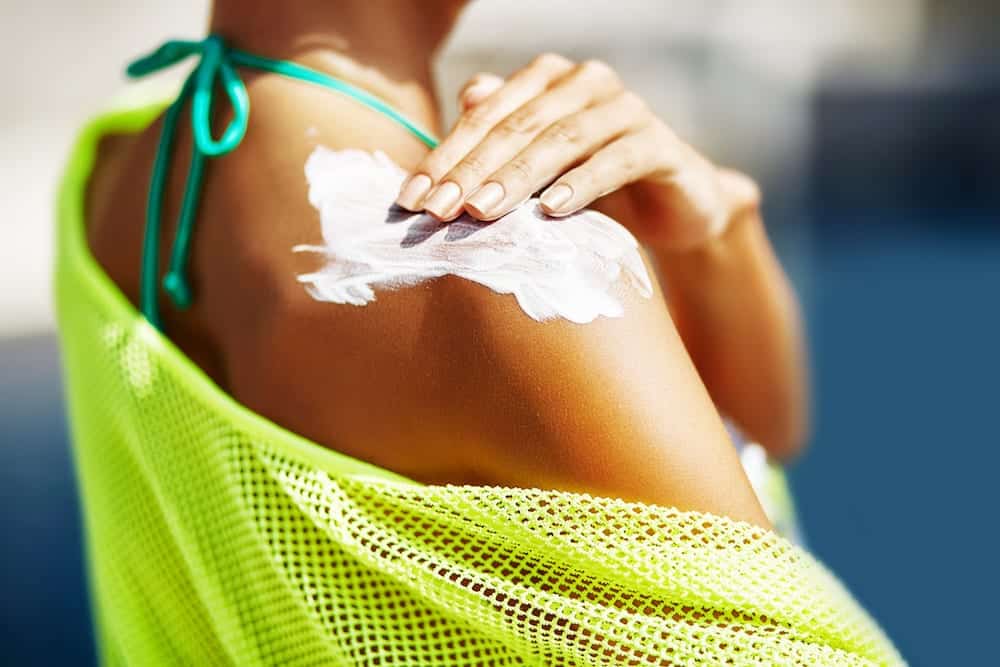 Protect Yourself From Skin Cancer with the Right Sunscreen
As we hit the peak of summer and swelter in record-breaking temperatures, it's essential to maintain a regular practice of wearing sunscreen. An effective sunscreen that is applied properly can protect your skin from both skin cancer and aging.
Sunscreen is critical for preventing skin cancer
In talking with my patients, it's clear that many people underestimate their chances of getting skin cancer. More people are diagnosed with skin cancer each year in the US than all other cancers combined.
One out of every five Americans will be diagnosed with skin cancer by the time they are 70. Developing a daily habit of applying sunscreen with at least SPF 15 can reduce your chances of basal or squamous cell carcinoma by about 40 percent and melanoma by 50 percent.
Sunscreen creates a barrier against the immediate effects of UV rays. UVB rays cause sunburns, especially for anyone with fair skin, and they can raise your risk level for a few forms of skin cancer. 
Of course, the best way to avoid encountering any form of skin cancer is to stay out of the sun. If you want to enjoy the summer, that's easier said than done — so you need to use effective sunscreen. Everyone's skin is different, and sunscreens that work wonders for some people might cause breakouts for others. 
However, there are some consistent factors you should look out for when selecting a sunscreen.
You need a good UVA and UVB sunscreen
The sun emits several types of damaging ultraviolet light, but the main culprits are UVB and UVA. 
UVB rays contribute to immediate sunburns, which can raise the risk of cancer. Because they are partially absorbed by an ozone layer that is rapidly depleting, these risks will get exponentially higher in the future. 
An SPF rating indicates protection from UVB rays, and those ratings can be misleading. SPF 30 is not twice as strong as SPF 15. The former protects against 93 percent of UVB rays, and the latter protects against 97 percent. 
When in doubt, go higher than SPF 15. It won't prevent your ability to tan (unfortunately, from a dermatologist's perspective), but it will protect you from damaging burns.
Because they penetrate more deeply, UVA rays are much more destructive to your skin over time. They create wrinkles, reduce elasticity, and lead to premature aging. They are also a significant contributor to the formation of skin cancer. 
Because SPF protects specifically against UVB, it's important to look for "broad spectrum" sunscreen, which gives you protection against UVA rays. In the US, we don't have a rating system for UVA protection—-yet.
The best sunscreen ingredients are not available in the US
The most commonly used FDA-approved, chemical UVA blocker in the US is avobenzone. It is very unstable when exposed to sunlight, so other photostabilizers must be added to make it more effective. It also covers a much narrower band of UVA than ingredients found in Europe, South America, Asia, and Australia.
A number of UV-absorbing filters are available outside the US that have not yet been approved by the FDA for use: 
Ecamsule (better known as Mexoryl SX)

Drometrizole trisiloxane (Mexoryl XL)

Methoxypropylamino Cyclohexenylidene ethoxyethylcyanoacetate (MCE or Mexoryl 400)

Bemotrizinol (Tinosorb S, which appears on ingredient lists as bis-ethylhexyloxyphenol methoxyphenyl triazine)

Bisoctrizole (Tinosorb M, or methylene bis-benzotriazolyl tetramethylbutylphenol)

Diethylaminohydroxybenzoylbenzoyl Hexyl Benzoate (Uvinul A Plus) 

Phenylene bis-dephenyltriazine (TriAsorB)

Bis-diethyamino Hydroxybenzoyl benzoyl piperazine (BDBP)
These are UVA-protecting ingredients, which, as noted above, can provide a much broader spectrum shield for your skin against the sun. 
Unlike avobenzone, these ingredients are more stable, reducing the need to combine additional ingredients in sunscreen. Some formulas in the US are heavier and leave a white residue on your skin thanks to the stabilizing ingredients. 
Moreover, sunscreens containing these ingredients can be used as an alternative to any products on the US market that contain oxybenzone. Oxybenzone has attracted some controversy for its potential effects on women (some studies found it can cause estrogenic and anti-androgenic effects). As a result, it is rarely found in products nowadays.   
Oxybenzone and octinoxate are also banned in Hawaii and several other places, because they are believed to be dangerous to coral reefs. This is very controversial, as studies also show damage from mineral-based products.  
When traveling overseas, look for brands like LaRoche Posay's Anthelios, Isdin, Avene, Vichy, or Daylong. (There are literally dozens of brands that have the more comprehensive ingredients.) Many of these brands have American versions, sometimes packaged to look like their European counterparts. To be sure that you are getting the correct product, look for the ingredients listed above.
Apply sunscreen often
Apply sunscreen around 20 minutes before you head into the sun. Obvious regions like arms, legs, face, torso, and shoulders are important to cover. Don't forget your ears, lips, bald spots, feet, and hands!
If you are wearing bracelets, necklaces, or anything with straps, make sure the skin under those areas gets sunscreen as well — the sun does not make exceptions! Depending on the composition of the sunscreen, a black deposit can sometimes form under jewelry. This is NOT an allergic reaction, but rather a precipitation of sunscreen ingredients that interact with the metal in your jewelry. 
If you are hanging out on the beach or at the pool and not swimming, you should reapply sunscreen every couple of hours. It is not effective to apply sunscreen first thing in the morning and then not again for the rest of the day – even if you aren't swimming. 
However, even water-resistant sunscreen has a time limit in the water. Most last about 40 minutes. If you're swimming, you should probably reapply when you get out of the water, as moisture and toweling off can remove the protective SPF layer.
Also, if you plan to be in and out of the water frequently during the day, rash guard shirts and other protective clothing are an excellent option, especially for children.
Get your skin checked!
If you've had a little too much fun in the sun over the years, I highly recommend scheduling an annual melanoma and skin cancer screening. Early skin cancers can be effectively treated – but we need to catch them first. Schedule a screen today!