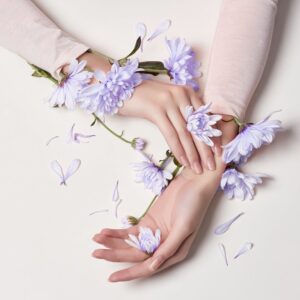 Rediscover Youthful, Hydrated Hands
As we age, our hands naturally lose elasticity and fat, and the effects of sun exposure are more clearly seen as sunspots (also called liver spots), raised growths, and general discoloration, along with dry and scaly skin lesions called actinic keratoses. While we may take some preventative measures, age, lifestyle, medical history, and other circumstances such as menopause can change the appearance of our body, including our hands.
A variety of hand rejuvenation treatments are available from Dr. Ellen Gendler at her office in Manhattan. A Board-Certified dermatologist, Dr. Gendler is widely respected in New York City, and regularly consults for pharmaceutical and Fortune 500 companies as well as lectures at national and international medical conferences.
What does hand rejuvenation treat?
Some of the most visible signs of aging occur on our skin – especially on our hands, despite the common focus only on the face and neck to maintain a youthful appearance. These include:
Diminishing tone or fullness
Loose skin and wrinkles
Sunspots or liver spots
Moles
Dry, scaly skin and actinic keratoses
Treatments for hand rejuvenation
Dr. Gendler offers a range of treatments for common concerns with the hands. As part of your personalized treatment plan, Dr. Gendler will determine which treatments are suitable for you and your skin goals. Treatments for hand rejuvenation include:
Intense Pulsed Light (IPL) treatments
IPL treatments use pulses of light to treat concerns such as uneven pigmentation, tone, or texture of the skin. This treatment is non-invasive, quick, and has little to no downtime.
Fraxel Dual spot-targets aging and sun-damaged skin with microscopic laser columns, reducing the appearance of sunspots.
Injectable fillers such as Juvederm, Restylane, and RHA
Fillers restore volume in areas such as the face and the back of the hands to smooth out the skin. In the hands, depressions between the tendons and veins can be filled to reduce the bony or hollow appearance of older hands. The Radiesse® filler also promotes collagen growth, which helps the skin maintain youthful elasticity.
Peels are a safe, effective type of skin resurfacing where a topical chemical is applied to the skin – exfoliating and peeling off the older layers, revealing the fresh, rejuvenated layer underneath.
Moles, also called nevi, are pigmented skin growths. While usually benign, you may wish to have one or some removed for cosmetic or comfort reasons.
The ideal candidate for hand rejuvenation
If the skin or general cosmetic appearance of your hands is of concern, a hand rejuvenation treatment, or combination of treatments, can rectify this. However, depending on your medical history, complexion or other considerations (such as pregnancy or breastfeeding), not all of the above treatments will be effective or recommended. Dr. Gendler will discuss your treatment plan with you, and work with you to achieve your skin goals.
Personalized care with Dr. Gendler
Before your treatment, Dr. Gendler will conduct a thorough skin analysis, and discuss your goals and expectations. A personalized treatment plan will then be created for you, which will include the type and number of treatments Dr. Gendler recommends, as well as any at-home products to use to supplement or enhance your in-office treatments.
What to expect with hand rejuvenation treatments
The type and number of treatments you have will determine how much downtime you have, or which level of aftercare is required. Some treatments have little to no downtime, while others require you to refrain from certain activities or medications. You will receive thorough instructions on how to best take care of yourself and your skin after your treatments, via your personalized treatment plan and discussion with Dr. Gendler.
As a leading authority in cosmetic skincare, Dr. Gendler will help you achieve your skin and cosmetic goals with safe, effective, top-of-the-line treatments via your personalized treatment plan. You'll leave Dr. Gendler's office in Manhattan feeling refreshed and rejuvenated.
For more information about hand rejuvenation treatments in New York City, contact Gendler Dermatology today at (212) 288-8222 to schedule a consultation.
FAQ
The range of hand rejuvenation treatments available with Dr. Gendler is able to address the most common concerns regarding the appearance of your hands, including sunspots, wrinkles, reduced tone, lesions, and dry, scaly skin.
Almost anyone can undertake one or more of Dr. Gendler's hand rejuvenation treatments. As part of your personalized treatment plan, Dr. Gendler will discuss which treatments are appropriate for you.
It is important to take care of your hands by regularly applying broad-spectrum sunscreen and moisturizer to your hands, body, and face to combat the effects of the sun, as well as keep skin hydrated. If you wish, Dr. Gendler will recommend other products as part of your personalized plan.