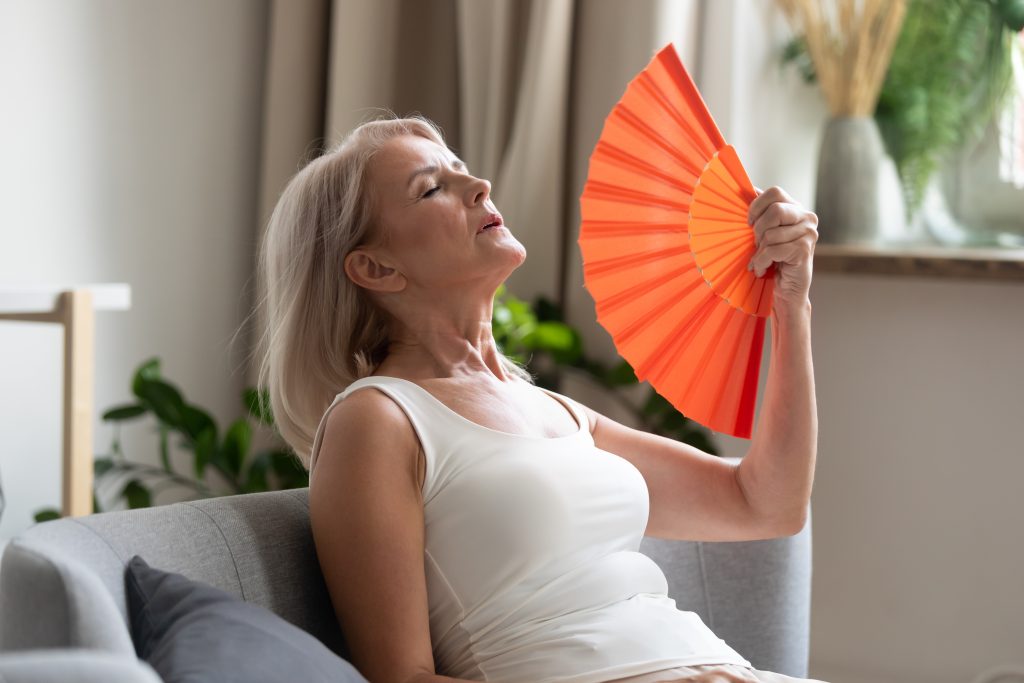 Menopause, Topical Estrogen, and Skin Health
Today we are talking about menopause, its effects on the body, and the role that topical estrogen plays in skin health.
Menopause is a topic that some doctors continue to avoid to the detriment of millions of women every year. This infuriates me on so many levels.
As Susan Dominus wrote in the New York Times earlier this year:
"Imagine that some significant portion of the male population started regularly waking in the middle of the night drenched in sweat, a problem that endured for several years. Imagine that those men stumbled to work, exhausted, their morale low, frequently tearing off their jackets or hoodies during meetings and excusing themselves to gulp for air by a window. Imagine that many of them suddenly found sex to be painful, that they were newly prone to urinary-tract infections, with their penises becoming dry and irritable, even showing signs of what their doctors called 'atrophy.' Imagine that many of their doctors had received little to no training on how to manage these symptoms — and when the subject arose, sometimes reassured their patients that this process was natural, as if that should be consolation enough."
There is a treatment of course. It's been available for decades. Hormone replacement therapy (HRT) is proven effective at managing symptoms of menopause. Unfortunately, the highly flawed interpretation of one study in 2002 found elevated risks for HRT, and prescriptions plummeted. Hence, the suffering as outlined above, often dismissed by doctors.
Low estrogen wreaks havoc on our bodies
However, during the past two decades, we have gained new awareness about the failure to look at the lowering levels of estrogen on women's health. 
When women enter perimenopause and menopause, certain changes take place that are not mirrored in the bodies of men. Lower estrogen levels wreak more havoc in our bodies than the lowering of testosterone in men as they age. Women are at increased risk of cardiovascular disease, urinary incontinence, and weight gain, not to mention mood swings, insomnia, and even "brain fog." 
Lower estrogen affects the skin as well. We know that estrogen plays a big role in skin thickness, particularly on thinner skin areas, such as under the eyes, on the neck and chest, and on the vagina.
Topical estrogen can combat thinning skin
Topical estrogen – a common prescription – can be helpful in keeping the skin as plump as possible. For my patients in their early to mid-40s, I recommend using topical estrogen creams on those areas that are prone to thinning, particularly under the eyes and on the neck. 
I don't recommend using it all over the face, but some do. And I definitely don't recommend using it all over the body. While blood levels of estrogen have never been shown to change with topical estrogen (or even with intra-vaginal application), this has not been studied in the quantities needed to cover an entire skin surface. It's likely that there would be some absorption.
You can use topical estrogen as an eye cream without anything else. And yes, you can use the vaginal estrogen cream you already have on hand for your eyes and neck.
If your doctor or gynecologist won't prescribe your topical estrogen because your symptoms aren't "severe" enough (or they still don't understand its safety and efficacy), head over to myalloy.com.
This company was created by two female entrepreneurs and women's health advocates, and it is backed by a strong medical advisory board. The website provides accurate information about menopause and HRT to women who have not had success finding physicians to help them navigate this period of their lives. 
In addition to doing full hormonal consultations, they also created a topical estrogen cream called M4. It's a lovely product that is well-tolerated and affordable. You can schedule an online consultation with a doctor through the website, and they will prescribe it to you. You can then buy the cream from their website.  
Alternatively, you can use Premarin cream or Estradiol cream that was prescribed to you by your gynecologist.  
Don't suffer in silence! And do consider using topical estrogen cream to combat the thinning of skin that comes along with menopause.